"Kolambi
Bhaat"/Prawns Rice is an authentic cuisine from Maharashtra.
This delectable and savory dish of Prawns and Rice is extremely flavorful and rich with a variety of spices , herbs and grated fresh coconut. A few months ago when I first saw this recipe in my favorite khana khazana show ,I instantly fell in love with it . This is an adapted version of the original recipe; I have prepared this dish with my own choice of ingredients and a delicious Orange Raita to go along with it. The preparation takes some time as it involves "
Dum" cooking/Dum pukht, to be precise , which is a slow ,time-based method of cooking in which the pot or the container is completely sealed and the contents inside is cooked in "Dum" or steam to retain the flavors of the dish.
Prepare this dish for lunch or dinner, for any special occasions/guest invitations.
Preparation time : 40 to 45 minutes
Cooking time : 35 to 40 minutes
Serves : 4
Ingredients :
12 to 16 medium sized Prawns

1 n 1/2 cups of Basmati Rice , I have used normal rice as I ran out of the same :-)

1/2 cup grated fresh coconut

3 big tbsp of homemade mint-coriander chutney, check out the ingredients below

3 to 4 cloves

1 cinnamon stick

1 Black cardamom/Badi elaichi

2 Bay leaves

1 tbsp lemon juice

2 n 1/2 cups of warm water + 1/2 cup 100% fat free Half n Half (can substitute Half n Half with thick coconut milk )

Salt, to taste

Oil, as required
Ingredients for Green Chutney:
1/2 cup mint leaves

1 and 1/2 cup coriander leaves

a handful roasted ground nuts

1/2 tsp cumin seeds, roasted

2" piece ginger, sliced

1 medium sized red onion, chopped

2 green chilies, with very little heat, mostly used for flavors

juice of half a lemon

Salt to taste

1 tbsp of oil
Ingredients for Orange Raita :
2 oranges, sliced into cubes

1 cup of curd

Salt and pepper to taste

a pinch of chat masala, optional






Directions :
Soak rice in cold water for at least half an hour, drain water and keep aside. This helps the rice to expand and doesn't break while cooking.

In the mean time , de-shell and de-vein the Prawns, I have kept the tails as it adds more flavor to the dish, you can discard if needed. Marinade the Prawns with a pinch of salt and a tbsp of lemon juice, keep aside.

For the chutney, add all the ingredients in the blender , make a coarse paste , need not to blend very fine. Use 3 large tablespoons of this chutney and keep the rest for later use, else adjust the amount of ingredients as need be. I prepared this chutney for morning breakfast, everybody loved it so much I thought of trying the same in this dish.

In the blender add half a cup of grated fresh coconut, 3 large tablespoons of the chutney, blend to a fine paste adding a little water.
Heat a tbsp of oil in the pan, add the bay leaves, cloves, cinnamon and cardamom, when you get a nice smell of the spices, add the masala to it and fry for 2 to 3 minutes by constant stirring.

Add the Prawns, mix well with the spices and let cook for a minute or so .
Next, add the soaked rice with 2 and 1/2 cups of luke warm water and 1/2 cup of 100% fat free half n half/heavy coconut milk, add salt if required (since the chutney already have salt in it), gently stir the ingredients together .Once it comes to a boil, cover and cook for 7 to 8 minutes on medium-high heat .

Note: Use twice the amount of water as the amount of rice. Since I added 1/2 cup of half n half , reduced the amount of water accordingly.
After 7 to 8 minutes of boiling on medium high heat, the amount of water will reduce to the above consistency. Next you need to keep the rice on "Dum" on the lowest heat settings for 22 to 25 minutes.

Note: To keep the pan air tight , I have used a sheet of aluminium foil to cover and closed the lid on top of it.

Serve hot with Raita or any side dish of your choice. I have prepared Orange Raita to go along with it.
It's Award Time!!!!!!
Minnie of The Lady 8 Home
has shared this beautiful award with me. So sweet of you Minnie and THANKS A TON for this kind gesture !!!!!!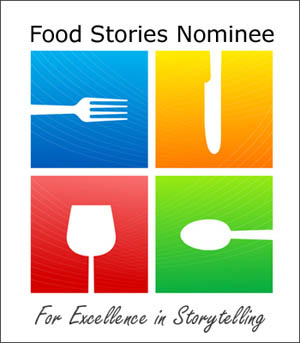 As per the Award rules , I need to share a random thing about myself. "I don't know how to ride a Bike", please don't laugh !!!!!It's a fact :-):-):-)During the initial days when I started to learn ,I fell and hurt myself so bad ,I don't know why I never tried again .My parents desperately tried to persuade me, but of no avail. And now when I see my daughter learning to ride , sometimes my hubby goes riding with her , I feel so guilty that I cannot go riding with her, I have started taking riding lessons , my hubby's helping me :-)
Now I would love to share this award with 5 of my blogger friends...
Like our Recipes? Subscribe via Email to get the latest Updates!